The iRig Mic Lav is the audio solution for film, television or broadcasting scenarios. This lavalier mic provides convenient, crisp, high-quality audio, right into your smartphone or tablet. It's equipped with an omnidirectional condenser microphone to pick up sound from all directions, and the foam pop filter eliminates vocal plosives and wind noises.
Any app that accepts input from a headset connection is compatible with the iRig Mic Lav. More, thanks to the built-in switch, is it possible to connect up to two iRig Mic Lav to the same device or an earphone.
Just connect the 1/8″ TRRS jack to your device (both iOS and Android), open your recording app and you're ready to capture quality audio. The in-line connector hosts a 1/8″ TRRS and a dedicated switch that allows you to connect your headphones for monitoring your recording or a second iRig Mic Lav.
Features include:

• Professional Lavalier Mic with TRRS Jack

• High-quality omni-directional condenser capsule

• Includes foam pop shield and durable mountable clip

• Compatible with audio apps that accept audio from headset input

• Compatible with Apple iOS/Android devices

• Allows you to connect both headphones and a second iRig Mic Lav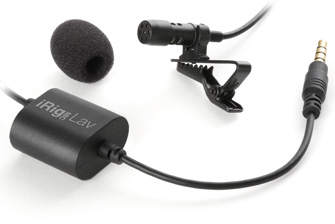 iRig Mic Lav is chainable. That means it can double your recording power by letting you easily chain up to two iRig Mic Lav's to the same device. Each iRig Mic Lav captures high-quality audio thanks to its omnidirectioinal condenser capsule and foam pop shield.
And recording convenience is taken to the next level thanks to its on-board headphone monitoring output, secure mounting clip, generous cable length and durable roadworthy design. And best of all, you can have all these premium features at a price as small as the device itself.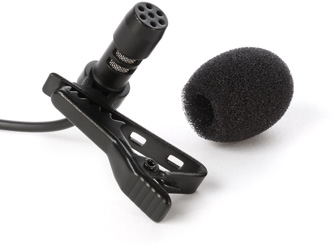 Portable performance
iRig Mic Lav gives you the power to record great sounding audio anytime and anywhere. Designed to meet the exacting demands of broadcast professionals, its omnidirectional condenser capsule lets you capture a 30Hz - 16kHz frequency range of crystal-clear audio from all directions. It comes with a foam pop filter to eliminate vocal plosives, wind noises and other unwanted sounds. And like all good lavalier microphones, it comes with a durable mounting clip that you can easy mount on a t-shirt, lapel or other material for dependable and secure hands-free recording. Just clip it on, and you'll be ready to go.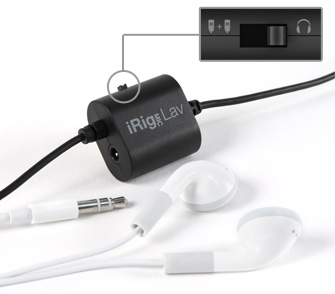 Effortless monitoring
Capturing great audio in the field requires more than just superior microphone technology. To get the best sound, you have to be able to monitor your source as its being recorded. Not all lavalier microphones come with on-board monitoring, but iRig Mic Lav does. In fact, among major brands, it's the first mobile lavalier microphone to offer this feature.
It comes with a combo 1/8" TRRS port that can be used to output audio to your favorite pair of headphones. Just set the toggle switch next to the port to "monitor" and plug in your headphones, and you'll be on your way to recording effortlessly amazing audio.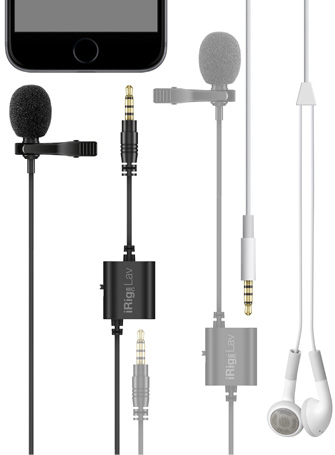 Chainable power
There's a saying that goes something like, "two heads are better than one."
The same can be said for microphones — when you're out in the field, sometimes you need to record more than one person.
iRig Mic Lav lets you chain and record with up to two iRig Mic Lav's on the same device thanks to the same dual-purpose 1/8" TRRS port used for headphone monitoring.
Simply set the toggle switch to "input," and then plug a second iRig Mic Lav in to record with two microphones.
To monitor a dual iRig Mic Lav setup, you just need to set the switch on the second iRig Mic Lav's jack to "monitor," and then you'll be able to plug in your headphones.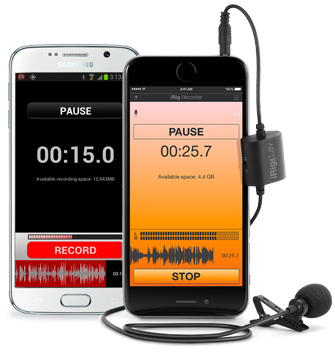 Features
Professional mobile lavalier microphone for all devices
High-quality omnidirectional condenser capsule
Includes foam pop shield and durable mounting clip
1/8" TRRS jack connects to iPhone, iPad, iPod touch, Android
Combo 1/8" TRRS port can be used for headphone monitoring/line out to powered speaker
Combo 1/8" TRRS port can be used for chaining up to two iRig Mic Lavs to the same device
Compatible with any audio app that accepts audio from headset input
Comes with a suite of powerful recording apps
150cm/66" cable
Specifications
Transducer type:

 

condenser, electret
Polar Pattern:

 

omnidirectional
Frequency Response:

 

30 Hz - 16 kHz, -3dB
Max SPL:

 

120dB SPL
Sensitivity:

 

-35±3dB at 1 kHz, 0dB=1V/Pa
Capsule diameter:

 

6mm/0.24"
Cable length:

 

150cm/59.1"
Output connector:

 

1/8" TRRS
---
Package includes
iRig Mic Lav
Removable foam windshield
Removable mounting clip
Carrying case
Dimensions
Microphone size: 24mm/0.94" x 7.5mm/0.3"
In-line connector size: 24mm/0.94" x 24mm/0.94" x 14mm/0.55"
Weight: 22g/0.78oz
Cable length: 150cm/59.1"