Make professional audio/video recordings everywhere you go
Now anyone can make high-quality stereo recordings while on the move: Introducing iRig Mic Field, the pocket-sized digital stereo microphone for Apple's range of Lightning-compatible iPhone, iPad and iPod touch devices.
Designed to be used for both video and audio recordings, it features a patent-pending rotatable enclosure that you can easily position for the best stereo image in both landscape and portrait orientations. Now you can capture pristine sound no matter whether you're recording a rehearsal or a concert, capturing audio for videography, acquiring audio for a music project, recording instruments while on the move, saving a lecture or speech or creating your next viral video hit. iRig Mic Field lets you create accurate and faithful field recordings in any imaginable context.
iRig Mic Field combines high-quality components and unparalleled portability with a unique form factor. iRig Mic Field packs a 24-bit audiophile-grade A/D converter, a 44.1/48 kHz sampling rate, a 115 dB maximum SPL rating and a low-noise/high-definition pre-amp into an enclosure that's small enough to slip easily into your pocket. Now you can get that high-quality stereo sound anytime and anywhere. With iRig Mic Field, you can get a mic that's half the price of comparable microphones that cost and weigh twice as much and lack the flexibility of audio and video support.
Record right out of the box with iRig Mic Field and it's companion app, iRig Recorder Free app. It's the easy way to record, edit and process stereo audio while in the field. And as if that wasn't enough, iRig Mic Field is compatible with all Core iOS Audio and Video apps including Voice Memo and Camera, and Apple's GarageBand and iMovie as well as all your favorite social media video apps and services.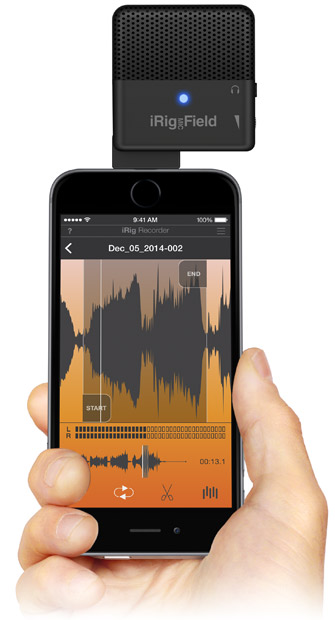 ---
Features
Digital stereo field-recording mic that connects to iPhone, iPad, iPod touch via Lightning connector
Lightweight and pocketable design
Rotates 90° for optimal audio/video positioning and locks in place with comfortable to use controls
Great for music recording, video shoots or any field recording application
Integrated headphone output for immediate real-time audio monitoring
Gain control and multicolor LED indicator for easy and accurate level adjustment
2 high-quality cardioid electret condenser capsules
24-bit, 44.1 - 48 kHz A/D conversion
Elegant design with black finish
What's new
---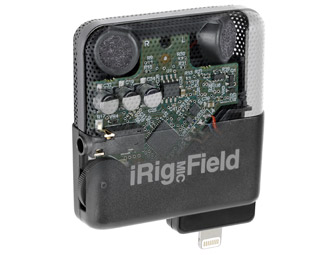 High-quality stereo field recording
When you're on the move and want to record audio and video, you never know when you'll need high-quality stereo sound. That's where iRig Mic Field comes in; it's been designed to deliver the best stereo image and sound quality no matter your needs. It connects directly to the Lightning input of your iPhone, iPad or iPod touch. And its two condenser capsules, 24-bit audiophile-grade A/D converter (with 44.1/48kHz sample rate), 115 dB maximum SPL rating and built in low-noise, high-definition preamp give you the tools you need to capture pristine stereo sound in any situation.
90 degrees of flexibility
When recording in the field, flexibility is key. iRig Mic Field gives you more flexibility than any other mobile field microphone thanks to its conveniently rotatable patent-pending design, which lets you adjust it 90 degrees and lock it in one of two positions for the best stereo image in both landscape and portrait mode. This means you can make higher quality recordings than with the built-in mono microphone on your iPhone, iPad or iPod touch and also comparable mobile microphones that only produce a true stereo sound when held in portrait mode. All of this while all the on-board controls remains easily accessible and properly positioned for maximum comfort.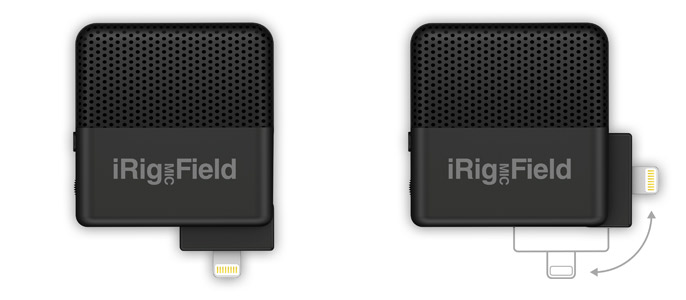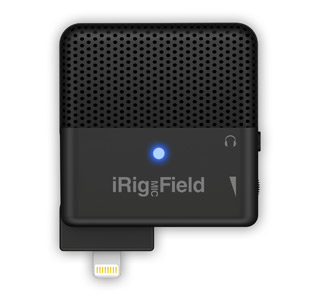 Superior level control
Capturing good sound requires more than just high-quality components; it also requires comprehensive and easy to use controls. iRig Mic Field has everything you need to ensure your sound is recorded at the perfect setting. It features a thumbwheel gain control, an audio-out jack for quality real-time headphone monitoring (usable with app support) and a multicolor audio input level indicator for quick visual monitoring.
Video production in your pocket
iRig Mic Field has also been designed with mobile video in mind. It lets you record video with crystal-clear audio to be shared on all your favorite video sites and services: YouTube, Facebook, Vine and more. It's never been easier to shoot a video and share it with your friends, followers and fans. Now musicians, videographers, journalists, podcasters, casual users and more can get high-quality sound while on the go without sacrificing mobility or audio fidelity.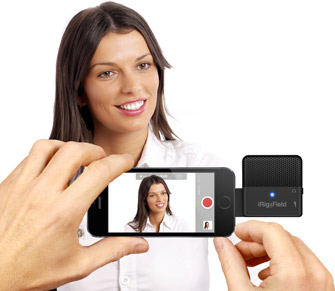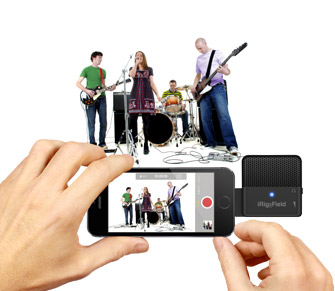 Record with the power of apps
For immediate recording, iRig Mic Field comes with IK's powerful iRig Recorder Free app for iPhone, iPad and iPod touch. The latest version of IK's popular field recording app, iRig Recorder, lets you effortlessly record, annotate, edit and process stereo audio with a revamped GUI, 8 new effects and a full suite of newly enhanced social sharing capabilities.
iRig Mic Field also works seamlessly with iOS' Core Audio and Core Video apps like Voice Memo and Camera, and Apple's GarageBand and iMovie. All you have to do is plug in your iRig Mic Field, open your favorite app and hit record: You'll have a high-quality recording in no time.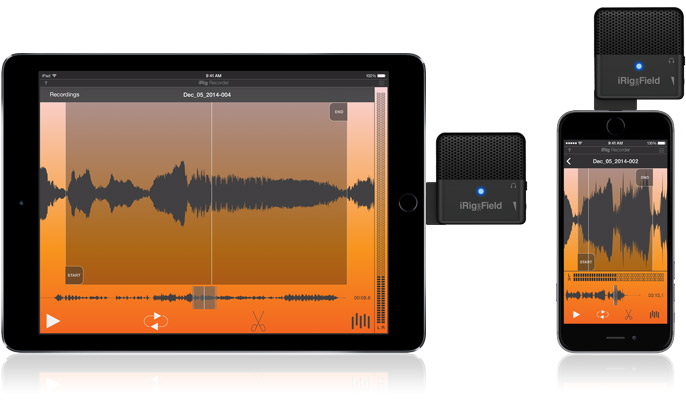 Big things come in small packages
Combine its effortless portability stereo recording capabilities, 24-bit digital audio converter, plug-and-play app compatibility, built-in preamp, easy monitoring via LED and headphone out, input gain control and sleek design, and iRig Mic Field stands out as the smallest and most full-featured portable field microphone for iPhone, iPad and iPod touch. And best of all, it gives you all this at a low price that everyone can afford.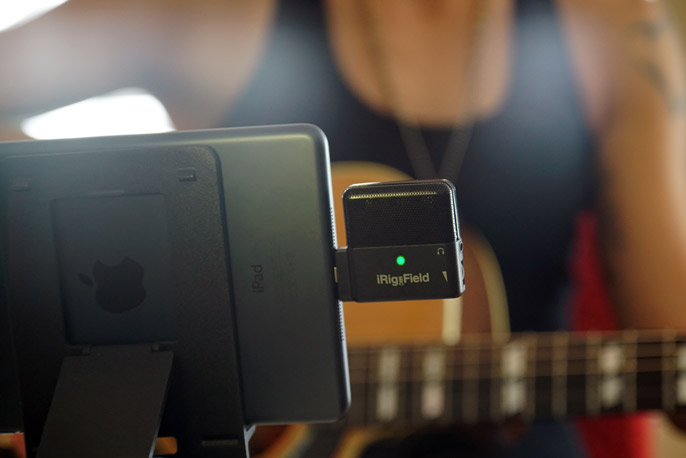 Specs
iRig Mic Field Specifications
Digital stereo field-recording microphone
Transducer type:

 

condenser, electret
Polar Pattern:

 

cardioid
Capsules configuration:

 

Near Coincident Pair
Max SPL:

 

115dB SPL
Frequency Response:

 

40Hz - 20kHz
Resolution & Sample Rate:

 

24 bit, 44.1KHz and 48KHz
Gain range:

 

48dB
Equivalent Noise Level, A-weighted:

 

18dB-A
Power:

 

powered by the connected iOS device
Connector:

 

Lightning connector
Rotation system:

 

90° for optimal audio/video positioning and locks in place
Controls:

 

Gain thumbwheel and multicolor LED indicator
Audio connections:

 

3.5mm headphone output jack
---
Package includes
iRig Mic Field microphone
Removable foam windshield
Protective storage bag
Dimensions
Size: 50mm/1.96" x 57.5mm/2.26" x 16mm/0.63" (W x H x D)
Weight: ~30g/1oz